February 20th & 21st
February 20th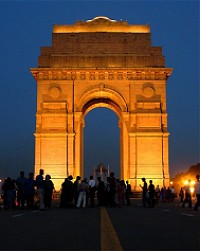 We arrived in Munbai Thursday morning, 12:30am. As soon as we got off the plane, you smell the aroma of India – how wonderful. But our ride was not there and we had to negotiate for 3 taxis that are so small I had to slide down in my seat. The cars all go fast don't stop and there are no lines in the road -- what a ride. Jake, you would like this. We didn't finally check in until 4am. Ah! The shower was wonderful after almost two days travel. So Bob and I figured why not do EE's and meditate -- it was great. Bob and I just finished talking -- we started around 2am -- great soul. "Everything is perfect in its own place." Bob quoting Master. His advice during communion, chant to Master and the Guru's. Bob told a story about Leo Cox waiting for Master by the elevator in Mt. Washington. He fell asleep on the table where Master woke him later. Leo is always about Master. Then we went down and ate too much breakfast -- eyes bigger than stomachs. When you know its time to stop eating -- stop! Destroy greed. Got to work on my will power more.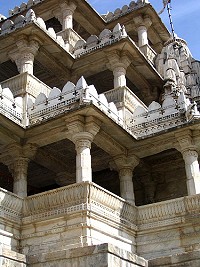 Next day we saw the 'Gateway' of India -- Elephanta; the Hanging Gardens; Jain temple. The Jain is located on a road that in the afternoon light reminds me of "Two Penniless Boys in Brindaban" – the backdrop Master describes as the two boys were strolling late in the afternoon. The Ruparel House of Science sits across from the temple. The Jain has such Spirit. The Walls and ceilings adorned in marble with lots of color. There was a special service happening at the time. From AOY, I easily imagined myself at Sri Yukteswar ashram. Musings: Master works through your spouse until you have learned to behave. Go over 20x20x20 and Hong Sau. Give everything your love -- develop the hearts love. What a wonderful path we have. Bob and I or any devotee can share spirit at any time as well laughter and good stories. Master and the karma he took on - the pain he endured - like Christ. The pain and suffering they went through for us is unimaginable -- these two master's. But just as I write this, I think it may be more my mortal perspective than anything else. They could not take on karma unless they could transcend it. Bless me Lord with the Cosmic Intelligence and Understanding to look at everyone and everything with thy love.
February 21st
Landed at Patna airport, in from Deli, our last leg to Ranchi. Write to Kelly! Write, write, and write. When I get back, talk with Br. Pranavananda about Kriya increase to 48 and second Kriya. Great talk with Bob -- father, husband, children stuff. Amazing how beautiful India is from the air. Neat villages surrounded by lush, green pastures -- quaint, rustic and neat.