February 23rd
February 23rd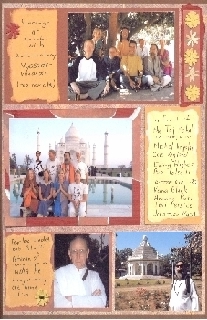 9:30am Arrived at Ranchi airport - one plane a day - small and charming. The two layovers were very short in time -- the rest of the world should follow suit.
The taxi ride to Ranchi was pretty intense. My knuckles were white from holding on so hard. It's really like organized chaos. Seems like there should be an accident every five seconds but there never is. Ah! Y.S.S at last. We're in the ashram. Master's picture from the wall in front of the building – were 'home'. Sheri, this is a real Indian ashram - no toilet paper; toilets in the ground and only recently hot water. But it was fun squatting over the hole – my muscles were quivering.
And the baths – there are small rooms with a cold water faucet, small seat, cement floor with a drain. You just get yourself a bucket of hot water; add cold water to your liking; scoop water unto yourself, soap and rinse – a lot of fun. I think I'll buy a seat and pail for our bathroom. Better yet, take out the tub and make it Indian style.
The four guys are camped out in one room. We each have a wooden, slatted bed with 1" mattresses and blanket. And each bed comes with a very needed mosquito net. Tell Jake its like being at youth camp.
Lots of buildings spread out over a large property with a number of big trees – banyan, mango, etc. and birds! They sing all the time – how natural. You can hear the sounds of the city of Ranchi all around – motorcycles, horns, etc while in this quiet, peaceful, humble place.
There is a beautiful mandir for Guruji – all marble, cut in intricate designs, topped with huge Lotus – great peace in there.
The refectory is small and humble. The food is plentiful and hot – they like to use too much chili. Bob is going to talk with the cook who is a nun is training. Turns out that she has heard of Marianne Warner and her cooking skills.
You wake up to the sounds of chanting from the other religious centers surrounding YSS. Then you see the sun start to rise, the birds' cawing, squawking and playing in the trees. The buildings have lots of shuttered, screened windows allowing soft breezes and filtered light to penetrate. There is just such a warm glow and ah the smell of India with people preparing breakfast over coal or leaf fires – there is nothing like it.
The brothers and bramacharis here wear ocher colored shirts, sandals and have long black hair – you can almost see Guruji walking down the path.
There is no Sunday service but a Satsanga – it was packed with people from all over. After the satsanga, a bramachari led a bhajan. Afterward most people lingered, talked and walked the grounds. Four little girls came up to me and one introduced herself. The others were shy and giggling. But we talked and they wanted my phone number and address. I asked them where their parents are as they were about 8-10 years old.
They replied that their parents were home and that they let them come to YSS on Sundays. So I made them pinkie-swear that they would inform their parents before writing me – I gave them my email only. Their names are Ruchi, Ruhi, Ansu and Priyanka. I also met two members Senga and Vicki – schoolteachers, level 3.
Sunday night at 9pm broke out into a religious festival of conch shells, drums, horns, bells and firecrackers. A thought -- Open-mindedness without wisdom and discrimination leads to suffering – like 'Fun Island' in Pinocchio.
One of Master's sayings sounds in my mind – I am fearless, for God is within me, around me – everywhere; "Danger and I were born together and I, the eldest brother, am more dangerous than danger".
I feel like I am getting re-acquainted with the Guru's – Dyana Mandir.
4:00 p.m. Satsanga with Swami Swaramananda (Remembering God) Omnipresence, humbleness.
Don't build a bridge with a thought while meditating. Let the thoughts go by, but don't grab one and revolve around it.
The first five minutes of meditation sets the tone. Merge discipline with chanting, affirmations, Hong Sau, Om, Kriya. Talk to God and Guru's. Just a few minutes of breathlessness; peace is a very great motivator. To achieve that minute of peace and silence (no thoughts), it may take an hour of meditation – Chaityana
Stages of meditation:
Prayer
Chanting or Spiritual Affirmations
Mediation Techniques
Stillness
Thoughtlessness
Devotion
Pray for Others
Feb. 23rd Swami Swaramananda (Loudest Sound)
Breathlessness, stillness, visualizing Guruji in different poses. Om Guru, Om Guru, Om Guru. When that peace, joy and bliss come you will recognize it as a conscious, intelligent being to whom you can appeal.
Om technique – Guruji asked us to listen to the loudest sound, then become one with that sound by merging the sound, the listening and the process of listening into one – listen, listen, listen to the loudest sound.
Dayana Mandir – The Gurus are dancing in my mind.
-- become a Master --