March 8th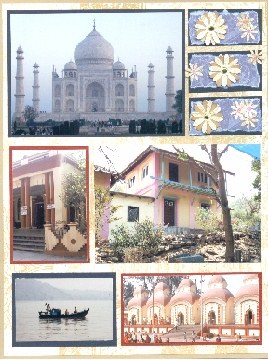 We are on our way. All on this trip have right attitude; toward locals, etc.
We pull into Corbett Imperial Hotel around 11:30am. This used to be a hunting lodge and it shows – structures made of bamboo, wood and stone. The lodge is situated on a small hill above a very wide river and has a pool. We were pretty much the only ones there.
Nice breeze, temperate climate, trees, birds of every kind – parakeets, hawks, crows, egrets; water buffalo, monkeys, huge fresh water fish and tigers if you can see them. The park is a sanctuary for all the animals, especially the tigers. There are about 4000 in India with about 1800 in Corbett. There were, at the turn of the century, around 100,000.
Well, after lunch everyone but Bob and I went on a site safari for 3 hours – this after a 7 hour bus ride.
Bob and I just turned out chairs around on the outside veranda of the restaurant, and had a great 1 ½ hour siesta listening to the rapids and animal/bird sounds. Later I went swimming in the pool while Bob slept some more in his room.
Very peacefully and serene and natural. Sat on the veranda outside our room and watched the sun go down.
We saw a slide-show and a great meal – macaroni and cheese with French fries. Tomorrow the elephant ride.